M-14 Pouch PGP Holster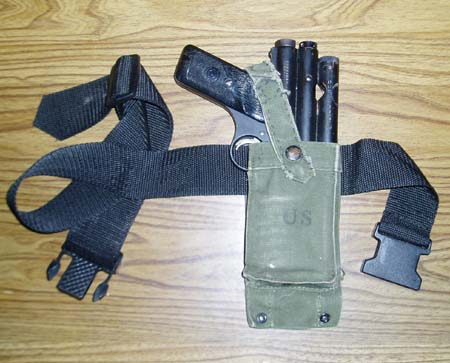 Back in the day when a canvas M-14 single mag pouch could be had for a buck, I picked up about 10 of them at a gun show and starting turning them into different things. One became a holder for my first SAS surival tin kit, one became a holder for my first home-built grappling hook (made from part of a school chair that I pulled off in a slow middle school class), etc.
One of the other things I discovered about the pouches were that they were just wide enough to hold a PGP barrel – the large pump grip of which excludes it from being held in standard holsters. It would fit in a generic "laser site" holster (bigger at that time, but also harder to find). The above is my modification of a M-14 mag pouch to be a holster for my PGP.
---
The Small Kit
Everyone builds a survival kit with Altoids mint tins, but what about an Altoids gum tin?
The small kit was designed to be a kit I could carry at all times – except of course in the airport. The kit uses a small altoids gum tin, which fits great in the pocket. The underside of the lid can be used as a makeshift signal mirror and the black electric tape I use as a seal around the edge can be used for minor repairs.
This kit also takes care the six basic needs described above. It contains (clockwise from the top) immodium tablets, brass snare wire, waterproofed matches in aluminum foil (they are sealed with parafin, the foil is to keep the wax from ruining the contents if it melts), two pieces of tinder (wax/cotton), fishhooks, needle with fine poly thread, bigger needle with heavy waxed linen thread, three bandages, button compass, salt packets, 6 tablets ibuprofin, and a razor blade.
---
ALICE Tropical Rucksack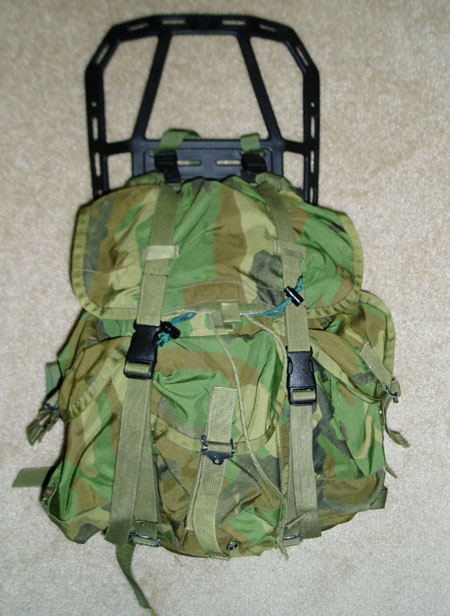 ALICE Tropical Rucksack
The ALICE Tropical Rucksack project was basically a project to add Vietnam-era "Lightweight Tropical Rucksack" features to a modern (and much cheaper) ALICE pack.
Bascially, it is just a medium ALICE pack added onto the outside of an older Coleman pack frame. This allows the addition of a bedding kit to the top of the rig, which can be removed and the primary pack and frame can be used as a larger day pack for expeditions outside of your base camp.
The external frame also allows for strapping of larger kit items like axes, shovels and spare rifles to the outside of the pack.
I also cut-off the ridiculously hard-to-use ALICE strap keepers and replaced them with 1″ fastex buckles. The two circles of nylon cord and cord locks are to hold an Army poncho (woodland camo of course) to the outside of the pack, just below the top flap.
---
Mod'd Lowe Alpine Contour Mountain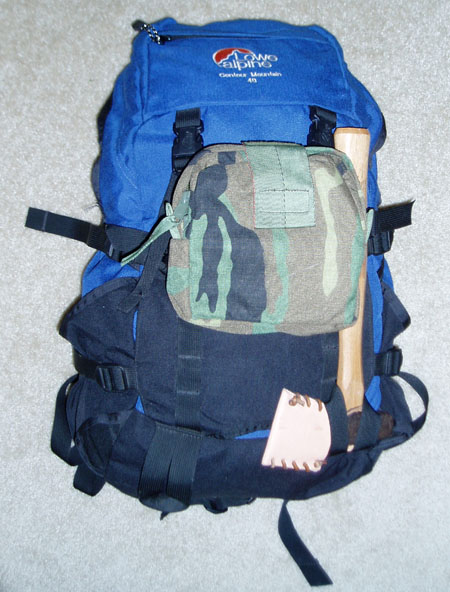 Modified Lowe Alpine Contour Mountain
I have probably logged more miles with my Lowe Alpine Contour Mountain than any other pack I have owned. It went with us on our Baja Expedition (also doubled as my "carry-on bag" for travel) and has been with me on more campouts and expeditions than any other pack. In fact, I still use it as my primary lightweight camping pack. If you pack it correctly, it works fine for a weekend trip.
The major modification I made to the pack was to add a strip of 2″ nylon webbing (seatbelt thickness) to the outside top of the external "jacket pouch." This allows me to mount my EMS "ready kit" to the outside of the pack, ensuring that rubber gloves, a tourniquet, EMT shears, a bullet dressing (I'm a professional 🙂 – don't ask), and other essential items are on the outside and available easily for use in an emergency.
The picture above shows the pack with this pouch visible (a MOLLE medic pouch), as well as an antique hatchet strapped to the outside of the pack.
And no, I didn't take the hatchet with me on the plane. Sheesh.
---
Related Links