Just great . . . I move away from Austin and then they have a Zombie Attack
Ok, not really. But just in case, we know the signs work in the event of an undead apocalypse.
Apparently, some local folks hacked a construction sign to warn passersby of zombies in the area.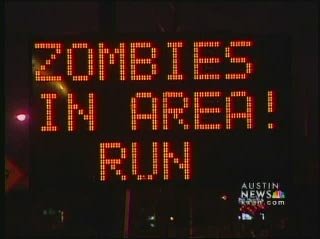 Construction signs warn of zombies Hackers change public safety message

AUSTIN (KXAN) – Austin drivers making their morning commute were in for a surprise when two road signs on a busy stretch of road were taken over by hackers. The signs near the intersection of Lamar and Martin Luther King boulevards usually warn drivers about upcoming construction, but Monday morning they warned of "zombies ahead."

KXAN Austin News cameras caught many drivers slowing down to read the signs as they approached. Some read, "Zombies ahead! Run for your lives!"
Of course the city didn't think it was too funny. But then again, sending out a false warning of impending zombie doom is never funny. It's just like the old tale of the "boy who cried werewolf." Pretty soon, the angry townsfolk will stop running towards you aid with pitchforks and torches.
More.
I wonder if they changed the password from 1-2-3-4 over to 4-3-2-1? 🙂